TODAY'S HIGHLIGHTED RUNNER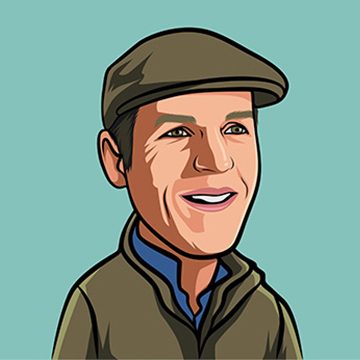 Obsessedwithyou
2:35 Ludlow
"She has the scope to progress further this season and is off a workable mark, but disappointed on seasonal debut when unable to settle in a messy big field handicap at Taunton. Back in a better race, and a smaller field, and with that race under her belt, I think she can go very close here."
Jamie Snowden
OUR TRAINERS' STATISTICS FOR THE CURRENT FLAT & JUMPS SEASONS
GB FLAT Current Season Jan 2023-Dec 2023
| TRAINER | WINS | RUNS | STRIKE % | PRIZEMONEY |
| --- | --- | --- | --- | --- |
| Charles Hills | 58 | 409 | 14 | £1,822,863 |
| Clive Cox | 58 | 436 | 13 | £1,408,144 |
| Owen Burrows | 23 | 118 | 19 | £1,226,716 |
| Ed Walker | 65 | 447 | 15 | £1,195,629 |
| Richard Hughes | 48 | 359 | 14 | £731,395 |
| Daniel & Claire Kübler | 23 | 167 | 14 | £571,709 |
| Tom Ward | 25 | 205 | 12 | £484,756 |
| William Muir & Chris Grassick | 20 | 193 | 10 | £441,615 |
| Roger Teal | 24 | 248 | 10 | £430,234 |
| Dominic Ffrench Davis | 23 | 185 | 12 | £415,499 |
| Jamie Osborne | 36 | 321 | 11 | £369,979 |
| Henry Candy | 15 | 101 | 15 | £359,271 |
| Jonathan Portman | 20 | 271 | 7 | £247,761 |
| Tom Dascombe | 10 | 160 | 6 | £227,249 |
| Stan Moore | 18 | 209 | 9 | £166,151 |
| Mark Usher | 17 | 229 | 7 | £143,749 |
| Nicky Henderson | 3 | 9 | 33 | £87,677 |
| Sylvester Kirk | 6 | 126 | 5 | £55,833 |
| Seamus Durack | 0 | 45 | 0 | £33,760 |
| Ali Stronge | 3 | 57 | 5 | £27,783 |
| Warren Greatrex | 0 | 1 | 0 | £300 |
GB JUMPS Current Season Apr 2023-Apr 2024
| TRAINER | WINS | RUNS | STRIKE % | PRIZEMONEY |
| --- | --- | --- | --- | --- |
| Nicky Henderson | 36 | 159 | 23 | £484,914 |
| Jamie Snowden | 24 | 119 | 20 | £218,235 |
| Harry Derham | 12 | 44 | 27 | £119,277 |
| Warren Greatrex | 8 | 69 | 12 | £78,794 |
| Oliver Signy | 5 | 18 | 28 | £28,135 |
| Tom Dascombe | 3 | 6 | 50 | £17,991 |
| Dominic Ffrench Davis | 2 | 3 | 67 | £10,829 |
| Roger Teal | 1 | 8 | 13 | £8,878 |
| Daniel & Claire Kübler | 0 | 2 | 0 | £1,508 |
| Ali Stronge | 0 | 4 | 0 | £565 |
| Seamus Durack | 0 | 3 | 0 | £0 |
News in Brief
Waterlogged Plumpton calls off Monday meeting
There will be no jump racing to start the week after Plumpton cancelled its meeting on Monday morning due to a waterlogged track. With Ayr already called off due to frozen ground, hopes rested on Plumpton's 8am inspection but the decision was made much earlier with conditions unraceable following heavy rain overnight.
Coolmore splash jaw-dropping €12m on Niarchos mares
What unfolded at Goffs on Friday evening will be talked about for years to come. Group 1-winning siblings Alpha Centauri and Alpine Star sold for €6,000,000 apiece, equalling the record price for a thoroughbred at an Irish public auction not once but twice.
Blackmore charity fund for every winner she rides
A new charity fund is being launched by Betfair on Saturday which it is predicted will raise up to £250,000 for the Injured Jockeys Fund and Irish Injured Jockeys. The initiative, which has been named the Rachael Blackmore Serial Winners Fund, will kick off with a £100,000 donation from the bookmaker. For every winner Blackmore rides between Saturday and the Randox Grand National at Aintree on April 13, Betfair will add a further £5,000 to the total.
RECENT LAMBOURN WINNERS
12:40 Southwell, 28th November
Sageburg County
Warren Greatrex
PRICE 16/5
6:15 Wolverhampton, 25th November
Civil Law
Roger Teal
Civil Law loves Wolverhampton. He wasn't placed very well in a muddling race at Kempton last time, but if he can get among them tonight, hopefully we wil see a better race from him.
PRICE 4/1
1:03 Huntingdon, 25th November
Sashenka
Dominic Ffrench Davis
First time over fences and we're hoping for a clear round and that she enjoys her jumping.
PRICE 4/5F
6:00 Kempton, 20th November
Brave Zulu
Daniel & Claire Kübler
Bravo Zulu really pleased us with his debut and should step forward as he showed a lot of greeness that day but powered home late. This is a decent prize and we've waited a while for it.
PRICE 13/2
You are spoilt for choice with our Lambourn trainers
THE Lambourn Valley, situated in the north-east corner of Berkshire, is recognised as one of the major racehorse training centres in the country.
With its superb facilities and wide-ranging gallops covering in excess of 500 acres and with more than 30 trainers to choose from – your racehorse could not be in a better place whether it be a flat or National Hunt horse. Our new website is here to provide the latest information of the day-to-day goings on in Lambourn plus quotations from all the day's runners from our trainers (when available).
There is also information and contact details for all our trainers; the history of training horses in Lambourn; where to stay; our annual Lambourn Open Day – which is held on Good Friday (April 10th, 2020) and all the latest news.